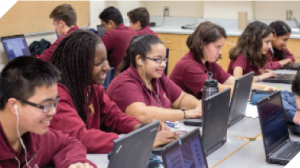 The St. Augustine CHS STEM+ Focused Laptop Program is an inter-disciplinary approach to inquiry and problem-based learning. It incorporates real world challenges and the engineering design process to foster critical thinking, creativity, collaboration, and communication skills guided by the traditional principles of Catholic social teachings. Technology is integrated into daily instruction. Some of the skills that grade 9 students will be actively engaged in include: coding, robotics, and design projects.
Our program will prepare our students for the future. It consists of an academic component and non-academic (SHIELD) component with the opportunity to earn an international award. STEM+ encourages both personal and academic achievement, challenging students to excel in their academics, leadership and personal growth.
Critical Thinking and Problem Solving
Recognizing connections and interdependencies
Inquiry and project based learning
Exploratory questioning, analyzing, synthesizing
Creativity and Innovation
Creative thinking to generate innovative strategies
Multiple learning platforms: (GAFE) Google Apps For Education, D2L, etc.
Introduction to Robotics and Programming
Collaboration
Working in real-time
Collaborating on activities online using GAFE
Communication
Digital Citizenship
Individual access to technology during class time
Frequently Asked Questions
What does a STEM Focused Laptop Learning classroom look like?
Is my daughter/son able to use their own laptop?
Is a binder/notebook required?
Will tests and exams be completed on the laptop?