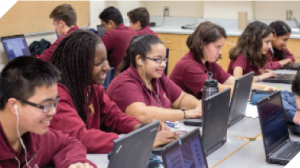 This program enables students to use their laptop computer, various curriculum specific software application programs and the Internet to enhance and expand the study of their compulsory courses.
Laptop Learning Program Students will engage in learning opportunities that foster:
Catholic Character
Critical thinking and problem-solving
Creativity and innovation
Collaboration
Communication
Students in the Laptop Learning Program typically excel in the following learning skills and work habits:
Responsibility
Independent work
Initiative
Organization
Collaboration
Self-regulation
Frequently Asked Questions
What does a laptop learning classroom look like?
Is my daughter/son able to use their own laptop?
Is a binder/notebook required for laptop classes?
Will tests and exams be completed on the laptop?